6/27/2014
---
I'm going to be attending Anime Expo in Los Angeles, July 3rd - 6th, where we be having a sale on all prints,
as well as key necklaces, buttons, stickers, pins, large posters, and will be taking book orders.
We'll also have some special cards to buy of my other art,
and super high quality prints of the Maggie and Ava posters.
I'll be at Table E12 in Artist Alley! Hope to see you there!
---
6/19/2014
---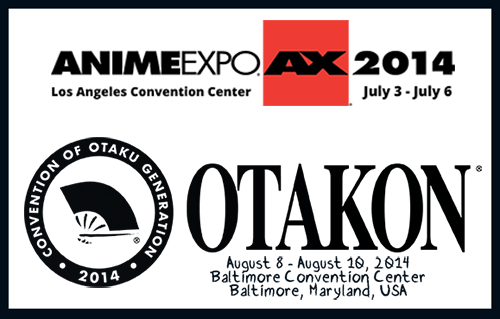 I will be at ANIME EXPO this summer with all the usual to sell at table E12 JULY 3 - 6
I will also be tabling with a fellow artist at OTAKON for the first time ever, AUGUST 8 - 10
Hopefully for Otakon I will have some new prints and buttons!
---
4/4/2014
---
Tomorrow I will be at MoCCA fest in NYC!
I should be there the whole weekend selling books, buttons, keys, prints, stickers, and original art. Look for me on the left hand side of the room at table E1.
Books will be 30$ and additionally battle damaged books will be 15$ (books with small imperfections from the factory) all will be signed.
We will have 3 types of keys: Bronze (85$) Comes in a special package with stickers and a signed print , Red Plastic (25$) , and a special Metallic resin (30$).
Come and say hi!! This is like my third convention ever and my first one on the east coast, I wanna meet you guys!!
---
3/14/2014
---
A small break until April 21st!
Hey guys! I hope you enjoyed yesterday's video. I'm making this post to tell you that I need to take a short break from updating for a few reasons:
-The Kickstarter! There are still a lot of really important things I need finish up like portraits, sketches, shipping, signing books, etc, which I'll be doing for the next two weeks. Krzys and I have been getting orders at random out at about 200-300 packages a week and we would like to finally finish off sending them out.
-Conventions! There are two coming up that I will be at back to back and I need to get things ready for them.
MOCCA - April 5 & 6 11:00 a.m. - 6:00 p.m. in NYC, selling extra books, stickers, prints, etc. Anime St. Louis April 11th-13th - where I will be doing two panels: one on art and one on story, though I think the two will be similar in content, again selling any leftovers we have at a table in artist alley.
I'll also be at AX July 3rd- 6th and Otakon August 8 - August 10 jsyk!
I also want to take some time to write out scripts, prepare for the NEXT video which is gonna be a buttload of work, I can feel it now, make some new posters, set up more wallpapers on the donation page, fix the slowness of the website, so on and so forth. So thanks for your patience guys, I hope you understand! After these next two months are over everything should go more smoothly.
Also if there is anyone that is interested in making an epic, intense, fast-paced song for the next video, or feels they have a song they would like to let me use, please email me at avasdemon(at)gmail.com with a bandcamp or soundcloud. Thanks!

---
---
---